The 78th General Convention opened this morning; however, I was unable to identify any bishops or prelates. One might think this very curious as I am at a Convention of The Episcopal Church, yet I found nobody dressed according to the traditional standards of the episcopacy. I encountered not a single pair of legs in gaiters!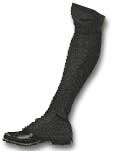 Gaiters: Dress for Mission

I did however chance upon a nightmare of bad ecclesiastical haberdashery: men and women dressed not in the stark and sober garments of clerics, but in a colourful array of popish jerseys of every hue of plum imaginable. Apparently, these "purple shirts" are yet another unfortunate innovation of late 20
th
century modernity.
Need Segrave's Gazette remind Convention attendees of that most sagacious advice of Blessed Percy Dearmer (by the way, why has he not been considered for A Great Cloud of Witnesses?), that a parson arrayed in a manner not marked by "simplicity, unity, proportion, restraint, and ecclesiastical propriety" is bound to "drive from the church those whose eyes, heart and intellect" are offended by their pastor's poor taste! Gaiters are a garment most suited to correct the episcopal abuses of gaudy shirts. Not only do they give bishops' legs a shapely tone but they also serve as a hallmark of a mission-driven church. Gaiters are worn by archdeacons and bishops because they are ideal travel ware, facilitating easy riding between parishes in one's diocese.
So inspired have I been by gaiters as a symbol of a missional episcopacy, that I have made inquiries with Messrs. Wippell at Booth 511 who have happily agreed to send their man from Exeter to measure the More-than-Reverend who is bold enough to wear this godly garment.
Rev'd Sir Felix Coverdale, Bt. is the newest correspondent for Segrave's Gazette. Sir Felix is the 7th Baronet Coverdale, a graduate of St. Sylvester's House, Oxford, and Chaplain-Grand Prior to the Society of St. Charles, King-Martyr.